Some others have posted pics of their strut install.
Posting my install using 2019 Forester struts.
Here's the ebay link
listing title:
Engine Hood Lift Support Shock Strut Damper 2pcs For Subaru Forester 2019
link: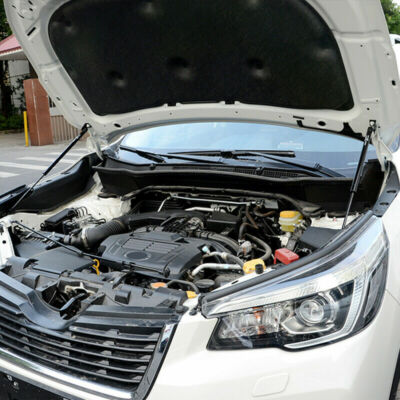 FIt for Subaru Forester 2019 2020 2021. Easy installation. Made in an ISO 9001 facility to ensure High quality.
Comes with 2 struts and mounting kit. L brackets to mount to the top hood hinge bolt, and then another ball screw which you will need to drill a small hole for on the frame behind the headlight.
When drilling the hole, I started with a smaller bit, I used a small piece of metal (an old license plate) to put behind the metal to prevent from accidentally drilling into the back of the headlight housing. After the pilot hole, switched up to a larger hole.
The hardest part of the install is getting the nut held in place as there is very little room to fit your fingers behind the frame. you can try a low profile socket, a magnet, or maybe your wife or kids fingers. But what worked for me was to wrap some tape sticky side out on a finger and then stick the nut to a finger tip to get it lined up behind the hole. Once you got the nut threaded, grab your 12mm wrench to tighten it up and you're good to go.
I had help from my grandpa but you can probably do this by yourself if you do the driver side first, because I found that one of these struts was enough to hold up the hood then you can let down the prop and do the passenger side.
That's better.
The 2015 Forester had a hood strut, I can't believe a 45K SUV doesn't include hood struts, maybe in the 2021.
This is a 2020 Ascent.