2021 Ascent Limited. 2005 Forester.
Just installed the Redarc Tow-Pro Elite
V3
in my Ascent today! I wanted to add a few pictures because I think the third version of the controller makes the install a little easier. I am super happy with how it turned out. Now fits in the second/lower row of buttons to the left of the steering wheel without too much trouble. Also, on my 2021 Ascent the pigtail connector for trailer brake wiring was not hard to find at all - a pleasant change compared to what some others have dealt with previously. It was easily accessible without removing any panels.
#1 - Finished product!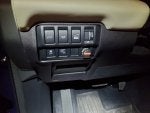 #2 - This picture is to show how I trimmed down the plastic on the remote head assembly to make it fit flush with the curved surface of the lower row of switches. The head assembly comes apart easily (trimming the plastic was much easier for me that way). Trimming in this location doesn't uncover any interior parts and doesn't seem to take away from the strength/stability of the assembly at all. I didn't think to take a picture of this before I started trimming. It was square with the forward most bit of black plastic visible in the picture - the threads were not hardly exposed before trimming.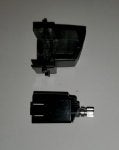 #3 - Showing how nice it fits in the hollowed out blank switch. I just kept taking off a little more from the remote head assembly until I could push it forward just enough to leave a little space between the remote head knob and the switch plate when fully assembled. You can see the space - no problem pressing the knob for full functionality.
#4 - I don't remember seeing a picture like this one on the forum previously. Head-on to show the plastic nut that connects the head assembly to the hollowed out blank switch. Screws on nice and tight. It is secure without any movement between the two pieces. No glue necessary.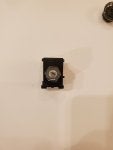 Thank you to everyone who has posted about this previously! It was very helpful. I didn't add any other pictures because I think other parts of the install are well covered here in this thread.