Discussion Starter
·
#1
·
One of the main questions we receive when winter season rolls around is if winter tires are really necessary. The answer to this may depend on your driving habits, and also local conditions during the winter. Read on to learn more.
Winter tires are distinct from summer and all-season tires in a variety of ways, snow performance being the most obvious. The main difference is the cold weather tread compound that remains flexible when the temperatures fall below 45°F. This improves handling, braking and traction is all cold weather conditions
Discount Tire surveyed hundreds of drivers on the habits, behaviors and perils of winter weather commuting. Here are the results: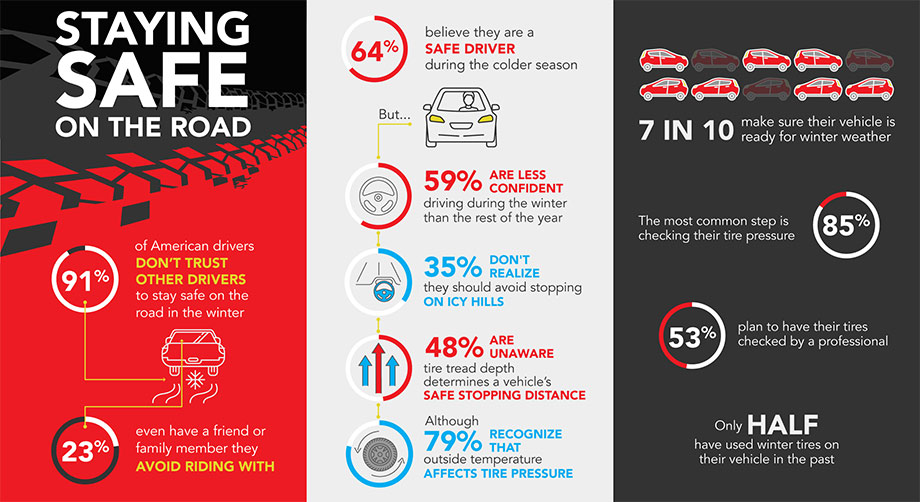 If this sounds familiar and your winter conditions are consistently frigid, or anything more than light snow, then winter tires may be right for you. In addition to a set of new winter tires, you may also what to consider a second set of winter wheels. A dedicated winter tire and wheel package makes seasonal change overs a breeze and will protect your expensive aftermarket or OE wheels from caustic chemicals and road salts that are laid down during the winter months. To this end, many go with traditional steel wheels or inexpensive aluminum alloy wheels for a no worry winter wheel and tire package.
For more information on winter tires visit our
Winter Tires Tips & Guides Section
. If you have any questions or need a price quote, please feel free to reach out to us though Private Message - we'll make sure you are taken care of!